Scott Paltos believes a life can be redefined. He's living proof. 
Act One
Being a douche can be a hell of a lot of fun. When things don't go your way, you scream, you yell—maybe you haul off and punch somebody in the face—and worry about the consequences later, if you even give a shit at all. For Scott Paltos, life as an athlete was a damn the torpedoes proposition where being right—and proving it, loudly and sometimes violently—was far more important than mitigating the abrasiveness with which the message was often delivered.
"I was a prick," says Paltos, who played professional football with the Oakland Raiders and New York Giants and now owns PUMP CrossFit and Performance in East Hanover, NJ. "I was a douche with a bad temper, and I didn't know how to keep quiet."
By all accounts, the prick could certainly play football. In 1999, the first major prospect to come out of tiny Bryant College in Rhode Island—after transferring from Georgetown—Paltos was a 5'11", 250 pound fullback who ran the 40-yard-dash in 4.48 seconds, had a 36 inch vertical leap, and threw iso blocks—a specialized move where a fullback directly targets an oncoming linebacker—like an enraged diesel locomotive. His path to becoming a professional prospect, however, was anything but linear.
Raised in Ramsey, NJ, 25 miles or so from midtown Manhattan, Paltos led the state in tackles his senior year at soon-to-be national football powerhouse Don Bosco. There was, however, a caveat that would eventually affect his recruiting process: Don Bosco wasn't very good yet. "You see them now in the USA Today rankings," Paltos says, "but I played there before any of that happened. We weren't successful as a team, so any recruiting by the big schools was really cooled down."
Disappointed by a perceived lack of interest, Paltos committed to play at Division I-AA Georgetown—the academic big time, to be sure, but not exactly the level of football at which he believed he belonged. He started at fullback for three years, but after clashing with coaches—"We didn't see eye to eye, and I didn't know how to handle it, so I shot my mouth off"—transferred to Bryant for his senior year, hoping for a fresh start and believing the move would offer a less troublesome path to the NFL.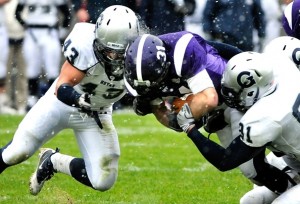 Bryant, however, was a program starting from scratch. Paltos' first year there was the school's first year of football, period. This entailed serious growing pains on all sides, including a suspension after an altercation with a coach over what Paltos thought was a serious breech of protocol—the defensive coordinator had a linebacker cut block offensive linemen during half-pad drills—in practice. The incident went public, making its way into newspapers via the AP newswire and saddling Paltos with a reputation—albeit deserved—for volatility.
"It was my fault," he says. "I'm not going to say I was wrong, but the way I did things was wrong. I even knew that if I could just shut my mouth, stop letting little things bother me, and realize I wasn't always right, that things could be better. After that, I'm a three-time offender. I'm a loudmouth piece of shit. A big douche."
Knowing help wasn't coming from the coaches he'd taken such pains to alienate, Paltos—with the help of his father and a positional coach—cobbled together a highlight tape and set about the process of selling himself to NFL teams. Convinced he'd be lucky to get any interest whatsoever, he jumped at the first call that came—from the New York Giants. In retrospect, taking the Giants' offer would prove to be an important lesson in patience. In 1999, the Giants were one of the few remaining teams to use a traditional fullback, and they had several good ones on the roster, including veterans Charles Way and Greg Comella. Paltos, essentially training camp fodder, had no chance of making the team.
"We didn't know," he says. "My dad didn't know. We had no idea there would be more calls, so we took the first one that came in. In hindsight, it was fucking stupid, because there were a lot of calls after that one."
Paltos' experience with the Giants would be a seminal moment in what he calls his personality's "un-douching" process. "I learned a lot from that," he says. "If I had just held off and waited and thought it out, things would have turned out differently. My parents raised me to make good decisions and analyze things, but I didn't give myself a chance to step back and evaluate the situation, and it put me in a bad spot."
For college fullbacks, a lack of NFL success would seem to be a foregone conclusion. In modern professional football, the fullback is nearly obsolete, a vestigial position favored by old-school coaches who insist upon stressing the running game despite a league-wide shift to more wide open offensive attacks like the West Coast offense and the various offshoots of the spread option. As a first-year player, Paltos didn't yet possess the skills necessary to be an NFL starter, yet few teams—if any—considered it wise to carry multiple fullbacks on a roster. His career was doomed before it ever started.
"I don't have any regrets about how it went," Paltos says. "I was done when I was done. I was constantly concerned about being cut, or when I was going to get signed again, and I was eventually smart enough to just say, 'Wait, what am I doing this for?' I was the best my whole life, but if you carried two fullbacks in the NFL, you were an asshole. I knew it was time to move on."
The goal, especially during Paltos' time at Bryant, was to first play in the NFL, and then to coach somewhere afterward—whether at the high school, college, or professional level. He coached for a time at two New Jersey high schools—including St. Peter's Prep, where he mentored Giant safety Will Hill—but decided, for financial reasons, to move into the private sector as a strength coach, working first at the Parisi School under Bill Parisi and Martin Rooney, and then at a series of local gyms.
"I think maybe I was a little too driven to get into the NFL," he says, "and I should have stepped back and enjoyed college more. My end result was always going to be the NFL. I was crushed when I got cut. I thought the world was over, so when I found out I could come back and start coaching, it literally just clicked. Coaching people, not football."
Act Two
"I don't want to put you on a plane all fucked up."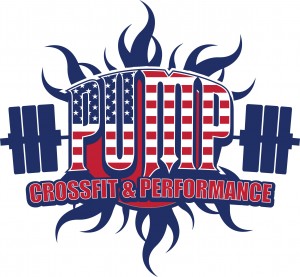 Rudy Gutierrez will be climbing Mount Kilimanjaro in three days, so Paltos is going easy on him today. Gutierrez, 44, a longtime friend and client who works in international finance, hasn't always been easy on Paltos, though. It was Gutierrez, along with Dr. Jason Sonners, Paltos' chiropractor and ART therapist, who, after haranguing him for the better part of a year, convinced Paltos to open PUMP, a 3,000 square foot CrossFit facility in an industrial park complex about 45 minutes from New York City.
The connection between the two, however, is more emotional than financial. Gutierrez was raised in a strict household where physical activity was virtually prohibited, lest someone get hurt. Rarely allowed to play outside, his sedentary lifestyle accompanied him into adulthood. "The word for me, basically, was obese," he says. "I was obese, at 325 pounds, and it was always like, 'This will be the week I'll go to the gym,' but it never was. Finally, I just looked in the mirror one day and said, 'Dude, seriously, what is your problem? When is this nonsense gonna stop?' And here I am."
The change has been a dramatic one. Gutierrez, now a lean and muscular 215 pounder who looks as though he's been cleaning and snatching for decades, works through his warm-up exercises with athletic grace. "Rudy's put together," Paltos says. "He's one of those guys who thinks he's not strong, but he is. We train together a lot, and he thinks he has to keep up with me. I'm like, 'Listen, maybe you don't know it, but you're doing better than you could ever imagine.' The guy is like my guardian angel."
"We're like a family here," Gutierrez says. "This training group and all the groups Scott's put together. It's really a family."
Gutierrez and Sonners noticed Paltos' potential early on, pushing him to quit making money for other people and go into business for himself. Paltos, however, balked when Sonners repeatedly insisted that an affiliation with CrossFit was the way to go. "I didn't want that," Paltos says. "I didn't know why he wanted that. I thought it was stupid. People get hurt. I thought it was fucking stupid training. I would read the website every once in a while, but the programming was nothing like what I would do. Maybe some of the conditioning was cool, but what the fuck? It's not like any of it was anything I hadn't seen before."
Sonners had a different rationale for affiliation. Paltos is a very large man. People, he theorized, might be afraid to train with him, fearing he'd want to transform them all into "big gorillas." CrossFit would soften potential clients' initial reticence, giving an air of legitimacy—at least to walk-ins—to the new gym. "Jay has an awesome business mind," Paltos says, "and he knew that if we affiliated, instead of seeing me and running away, people would say, 'Hey, it's CrossFit right in my town. I'm gonna go check that out.' Turned out he was exactly right."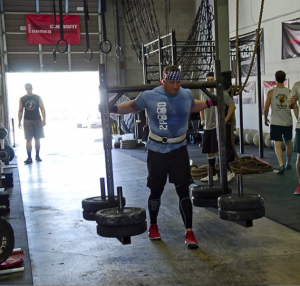 Paltos earned his CrossFit Level One certification in October 2010, then opened PUMP two months later. Although the CrossFit affiliation certainly attracts clients, what they find when they start training with Paltos is markedly different from what they'd experience in a typical CrossFit facility. "I still believe in doing a ton of strength stuff, so if that's doing CrossFit, then we do CrossFit," Paltos says. "The conditioning stuff CrossFit uses isn't any different from what I've been doing all along."
At PUMP, the workout of the day (WOD) doesn't always follow traditional CrossFit protocol. Paltos doesn't post workouts in advance online, and the whiteboards common to CrossFit gyms around the world are rarely used. "I don't give a shit about times, and I don't give a shit about weights," he says. "I want to see if they improve. I don't want to put anything on the wall and pound my chest. When I see a female client who couldn't even hold a barbell without crying get up and do five strict pull-ups from a dead hang, that's when I know it's working. We do everything to make sure they're getting better."
His CrossFit Games competitive career has followed a similar renegade path. Hesitant at first, he's now one of the most highly respected competitors in the sport—but this time around, in diametric opposition to his football career, there's an endgame for when the lights go off.
"At first, I didn't want to compete because I couldn't do half the shit they want you to do," he says. "I couldn't do gymnastics and some of the other shit, but I did it because I thought it would help the business and get our name out there. Competing is not a priority. It's secondary to the business."
Still, results in the Games have come. After committing to competition, Paltos traveled to various CrossFit gyms to master some of the more difficult movements—"All the stupid shit I couldn't get"—like muscle-ups and double-unders. With his NFL athleticism—and with his gym's solvency at stake—expertise came quickly, as did success in competition.
"Look, a lot of these guys are in their mid-twenties," Paltos says. "They're just flying around. Like Rich Froning. Nobody's gonna beat him. I'm ten years older than these guys and 50 pounds heavier, but I can still hang. I enjoy preparing for it, I love doing double sessions and learning new shit, and I love preparing other people for it."
His NFL experience, however, gives Paltos a unique perspective on CrossFit's place in the athletic pantheon. "CrossFit people will come up and say, 'Wow, man, these are the greatest athletes in the world,' and I'll tell them you can take an NFL defensive back and give him six months of preparation, and he's going to win the Games going away. That's reality, but it doesn't mean that what they do isn't impressive, though. You take a 190 pound guy who can snatch 275, then do 50 handstand push-ups and 50 muscle-ups—a lot of athletes would hit the wall before they could even come close to that."
There are times when being a douche pays off big time—like when you hold off on selling out to a desk job and hold on to a dream long enough to see it through. Owning his own gym makes Paltos happy. He's still as big of a self-proclaimed prick as ever, but now he's one with a successful business, a fiancée—and two children from a previous marriage—and a group of people who depend on him to transform their bodies and their lives.
"I'm driven by happiness, not money, and I'm happy here," he says. "I enjoy seeing people succeed, and I love working at it. That 'master trainer' at that commercial gym? Fuck that guy. We're in the business of building people, and in here, if I fuck up, it's all on me. Go ahead and ask anyone I played with about me. They'll tell you I'm an asshole, but they'll also tell you they've never seen anyone work harder. That's still me."