By Caroline Gick
I now have seven weeks until the Contra Costa Bodybuilding Championships, and it's time to think about all those "other" things I need to do in preparation for competition: Things like membership applications, entry forms, tanning appointments, hair, makeup, and choosing my posing suit and accessories.
The desire to focus on training and diet comes naturally to me. It's all these other things that stress me out. I'm also doing this on my own financially, so budgeting appropriately is very important. I don't intend to go broke doing this. This is my third show, though, so I feel like I'm getting it all down, and I have some tips to share with anyone thinking about doing a competition.
Stage presence is paramount in any physique competition. You can train and diet and hit the stage in perfect condition, but if your look isn't pulled together with the right suit, accessories, hair, makeup, and a good tan, you'll be marked down. Posing is also huge here, but I'll write about that in another installment. Today, I want to focus on the suit.
Choosing Your Suit
Style: The different divisions—bikini, figure, physique, and bodybuilding—have different styles of posing suits, and there are standards you need to follow, depending on the show and federation in which you're competing. Generally speaking, figure/physique/bodybuilding suits are the same, and bikini has its own style—but it's best to check the guidelines for your competition to make sure you're following the appropriate standards.
Buying a Suit: There are several manufacturers of posing suits. When I was a new competitor trying to figure this all out for myself, this was one of the most difficult things I had to deal with. Do you Google posing suits? Is it best to buy one locally so you can try it on and have it fixed if you need to? Is it worth it to pay for a more expensive suit? It gets confusing, but this is something you need to straighten out before your competition.
Here are some tips I've found helpful:
Search online for "figure posing suits" or "figure competition suits." Take the time to comb through websites for styles you like and prices you can afford. Pay attention to where these companies are located, and any deadlines or deposits they require. And read reviews. Bookmark sites, compare, and contrast. This is how you'll get a feel for what you like and don't like. Certain designs and designers will appeal to you more than others.
Get recommendations and referrals. In today's virtual environment, there are so many ways to get advice from other competitors—Facebook, Twitter, and online message boards. Use these word-of-mouth tools to find out what you need to know. Your questions should be about the fit and quality of the suits themselves, the level of customer service you can expect, and whether you can communicate with the designer. Pay attention to people's overall experiences, and find out if their deliveries were on time.
Don't forget the real world. If you belong to a team, you should be in good shape with referrals from your teammates and your coach. If you don't know any other competitors, don't be shy. Introduce yourself and ask for their input.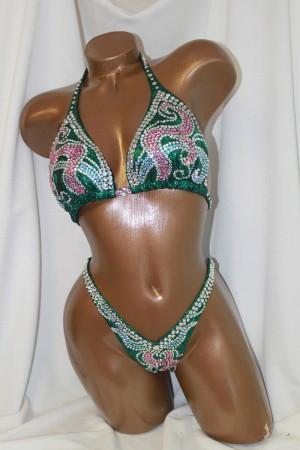 Suits should be created specifically for you and your measurements. Depending on the company and the time of year—and demand for suits—this means you'll need to place your order at least 6-8 weeks before your show. Be sure to put this at the top of your to-do list in the early part of your preparation and planning. I'd recommend doing it as early as possible. For my first competition, I ordered my suit on time, but I didn't receive it until just a few days before the contest. As much as the company assured me I would get it in time, worrying about whether this would happen—and whether it would fit—was stress I didn't need.
Ordering is a bit of a tightrope, because you want your measurements to be as close to the ones you'll have on stage as possible, but you also need to be able to try the suit on, to make sure it works, and to get your matching accessories in time for the show.
Make sure you give yourself ample time to order a new suit. If you already have a suit from a previous competition, don't just assume you can wear it again. Try it on as early as possible. If it fits, great. If you've changed your physique in any considerable way between competitions, however, you may need to order a new suit to fit and flatter all the work you've done.
Color is key. What color looks best on you? Take note of colors you're wearing when people give you compliments. Also, think about the fact that you'll have a funky tan for your show, and not your normal coloring. The first suit I bought was a beautiful red. I love the color red, and I think of it as my color, so that's what I chose. While the red stood out, it made my tan look more orange than it actually was. It wasn't terrible, but this is something I've kept in mind when choosing my current suit. I've also noted that I get more compliments when I wear blue, not red. This time around, I'm going with blue. It looks much better with the tan, and it'll pop more on stage.
Consider the price. Figure posing suits can range in price from $200 for a relatively plain suit, to thousands for suits intricately embellished with Swarovski crystals. What is your price point? Figure this out beforehand, and set yourself a budget. Don't invest in a suit beyond your price point unless you're planning to wear it more than once. Do you plan to change your physique over the long term? Do you know for sure whether you're going to compete more than once? If not, then keep things as simple as possible.
I'm glad I only spent $175 on my first suit. I didn't know if I was going to like competing, or if I'd ever go on stage again. I also didn't have a ton of money to put toward the show, so I chose a simple suit that had just enough embellishment to sparkle on stage. I'm glad it happened this way, because I changed my physique in several ways between my first and second shows, and I'll never be able to wear that first suit again. I don't regret the expense, but if I'd spent $500, I'm sure I would have.
Other Options
Renting or buying a used suit. May suit companies offer these options. You can also find suits for sale on Facebook, as well as through online forums, websites, and message boards. This is great as a less expensive option, but you need to consider fit and sizing very carefully. Even if you find one with the measurements you want, it will have been custom fit to someone else's frame.
Embellish it yourself. If you'd like to have a fancier suit but don't have several hundred dollars to spend, you can buy a plain or "blank" suit and embellish it yourself. This is what I did for the suit I wore to my last competition—and the one I'm planning to wear this spring.
Making a Suit
This section is primarily for figure competitors. Bikini posing suits don't generally have the same types of embellishments. There are also many fitness competitors who work on their theme suits themselves, which is a whole different level of creativity, design, and talent. That's way beyond me.
Here are some tips for this:
Blank or do-it-yourself suits. These typically sell for around $75. Choose an interesting fabric—multicolored, hologram, or textured—that has some element you can work with in terms of your beading. I chose a blue suit that had a subtle pattern with slightly different hues of blue, which gave it a bit of sparkle and depth.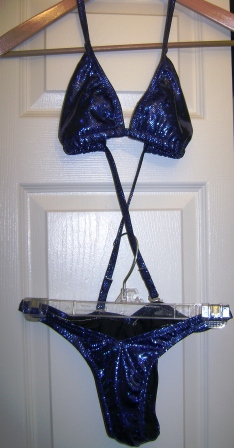 Two Ways to Embellish
 1.  Bedazzle. Remember those commercials? Joann's Fabrics still sells the Bedazzler.
 2.  Hot Fix Crystals. A heating tool plus crystals equals well-affixed bling. You can get the supplies at Michael's craft stores, and some companies even sell these crystals on their websites.
Search various companies' websites to find designs and patterns you like, and either replicate them or use them as inspiration for your own designs. You can also use the patterns suggested in Bedazzler or Hot Fix sets—or you can peruse the scrapbooking section at Michael's craft stores.
I found patterns I liked that were already created, then used my imagination to build on them. I actually used the scrapbooking adhesive rhinestone pieces that were already patterned, and affixed them with fabric glue—then built the design around them using the Hot Fix tools and crystals in shades of blue and clear crystal. Here's what I started with: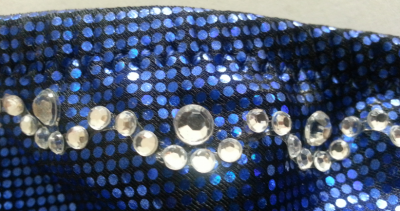 And here's what it led to: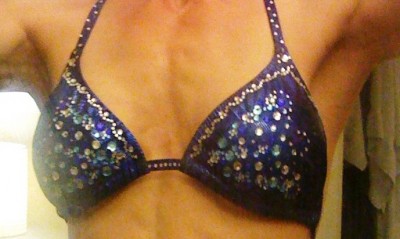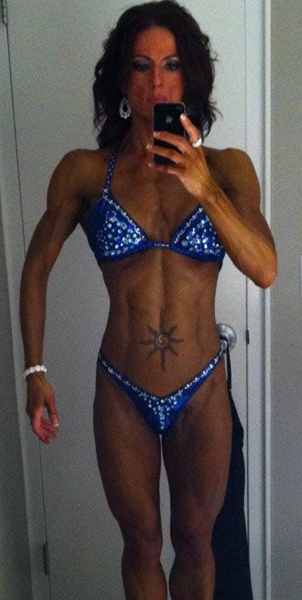 Don't forget the straps and edges—and the back. Not all suits have the straps, edges, and back embellished, but the more expensive ones do. I decided to take the time to add crystals along the straps, front and back. I was inspired by the scalloped design for all the edges to begin with, so that part was set. I almost forgot to do a design on the back of the suit, and added that as something of an afterthought, but I think it made a big difference in the overall look.
The suit has to go on your body. It's not a flat piece of work. If you place the design on your suit in a flat way, it won't line up right once it's on your rounded figure. You'll need to use a sewing form, something that can replicate your measurements, or your own body to get the placement right. I don't have a sewing form, but I was able to figure out how to do this in a couple of ways.
For the top, I was able to put the suit on and do the placement that way. I used a bit of adhesive to stick the crystals in place temporarily, then took the suit off and affixed them in place. For the bottoms, I was able to do the front this way, but not the back. To do this, I turned a large pot upside down, and the placement turned out just fine. I don't know how I feel about a big pot having the same dimensions as my butt, but whatever.
Do a practice run. If you're still on the fence, buy a cheap, plain bikini at Target or Walmart, get a Bedazzler or Hot Fix gun, and practice. At most, you'll be out $50.
The Real World
Truth is, I really wanted to buy a new suit for this competition. I like to have fresh, shiny, new things for all my new projects. If this were a national or professional-level show, I'd invest in a professional suit. Despite how much I like what I've created, that level of competition requires the big time. For now, however, I'm competing regionally. I don't have a bunch of sponsorships, everything is out-of-pocket, and I simply can't afford to spend a load of money on a suit. That's why I decided to do things this way. It still fits, it looks good, and its going to save me time, money, and worry.
Do you have a suit you've bought or created that's worked for you? I'd love to hear about it, so feel free to share your experiences.
Have a great week, everyone!