We invited Mark "Smelly" Bell (yes, that Mark Bell) to the studio to shoot the proverbial shit, and he surprised us by getting Jesse Burdick to tag along.
However, Bell and Burdick weren't able to make it until about 45 minutes into the show, so Kiefer introduced Alex Navarro (Ms. Natural Fitness Olympia and one of Kiefer's figure competition clients). You'll get to meet Alex, hear about what it's like to train under Kiefer, and how annoying it is to constantly be building muscle all the time using Carb Back-Loading and Shockwave-style training.
I was sick that morning (don't inhale mildew, kids) and couldn't make it out of bed much less to the studio. That turned out to be for the best, as I don't know how Mark Bell and Jesse Burdick would fit in that studio, much less also Kiefer and myself. Good thing Alex is smaller than me.
Download Part 1 (60 mins, 58MB)
Download Part 2 (22 mins, 21MB)
Part One: Alex Navarro, Mark Bell and Jesse Burdick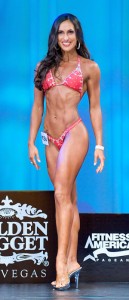 00:30 Alex Navarro (Ms. Natural Fitness Olympia) complains about how easy it is to put on muscle on Kiefer's diets.
03:00 Alex explains the differences among the various bikini divisions, and what the Fitness competition involves.
05:30 Shockwave training is "too short" and "easier", complains Alex.
07:00 Why Alex is moving out of Fitness competition and into the WBFF "Bikini Diva" competition. Kiefer apologies for being a nobody.
16:15 "Body By Vi" — the problem with multi-level-marketing products
18:45 Mark Bell walks in with surprise guest Jesse Burdick
22:30 Mark Bell's been following the Paleo Solution (Robb Wolf), working w/ John Welbourn
25:45 What Jesse Burdick's been doing: Carb Nite, back-loading, etc.
30:30 Conversation about intermittent fasting and people following expert recommendations that their bodies give them negative feedback on.


"Always kinda question the knowledge, even when it's coming from somebody who's really smart. you gotta apply some logic to it for yourself." –Mark Bell

"It's not just `Don't Trust the Information`, it's `Realize You're Different`. It's very clear from the research now that People Are Different, end of story." –Kiefer

37:00 The issue of having realistic expectations of your physical results when you have a stressful, work-oriented lifestyle.
24:00 [break]
43:00 About the Slingshot ("the greatest invention since the lifting belt"), Mark's invention for improving the bench press, pushups, and dips.
24:45 Kiefer's confrontational question about the use of the Slingshot…
27:30 What should lifters using the Slingshot be feeling for when they grip the bar (for a bench press) to avoid ending up flaring the elbows?
31:00 Mark Bell nearly kills Kiefer by sending him a photo.
33:30 70's Big and the shift in culture and physique in powerlifting.
37:45 Mark Bell's Power Project
Part Two: Training Qs from the Forums
41:30 "Can your head get any bigger?" –Julia Ladewski
44:00 What is the number one thing you do to mentally prepare before you train? (answers from Mark and Jesse)
45:15 What's the biggest thing you've learned from Louie Simmons?
48:50 Training to failure: necessary to get strong? and if so, how often?


In strength training, you don't always need to take it nearly as far as people think. You don't always need to be training at 90 or 100% to get stronger. In fact, a lot of times, once you've been training for a few years… it's more so about getting better, than it is about just getting stronger." –Mark Bell

53:00 Did Mark Bell really say, "if you see a guy over 200lbs and ripped, he's most likely on steroids"?
58:15 Mark asks Kiefer if there are any health concerns around Carb Back-Loading.
Resources Mentioned:
Supertraining Gym
Bigger, Faster, Stronger (2008) [imdb] Power Magazine
PowerWOD.com by Jesse Burdick
Robb Wolf (The Paleo Solution)
John Welbourn (former NFL, paleo advocate, creator/operator of CrossFit Football)
Louie Simmons of Westside Barbell
HowMuchYaBench.net, home of the Slingshot
70sBig.com
The Power Project
What's Ahead
We are way behind on getting these podcasts out (about 12 days delayed), which is about a 10 days longer than our intended lead time between recording and publishing.
THIS delay has to do with my being DOG SICK (it just kept getting worse, somehow) and needing to get our podcast server up and running before we could publish anything new. We've been pushing enough of these podcasts that we've run out of bandwidth for the month of April!
The good news is, these files are now served on our NEW PODCAST SERVER! And that's like 80% of the way to a BioJacked iTunes feed, so we'll have that up as soon as Apple approves our entry in the iTunes Store.
Gratuitous Training Video
Since it features three guys we've had on BioJacked, and uses the phrase "hyperextension pants", here you are. No implicit endorsement made from DH on technique or training, just a window on SuperTraining.tv — go check out more videos from Mark Bell and his crew.