By Caroline Gick
I have two months before my competition, so if I wanted to, I could still structure my carb nites the same way on my contest prep diet for another few weeks. For a variety of reasons, however, I think I'll be more successful if I start taking a stricter approach to my refeeds now.
I'm doing this for psychological reasons, and not because I think I need to change my diet because of where my physique is right now. I know myself well enough to recognize when I'm facing some challenges.
What challenges am I talking about? Well, I'm overdoing it. I'm giving myself too much leeway with sweets on carb nites, and I'm eating too much in general. This has resulted in two major issues:
1. I'm gaining too much on carb nite and feeling set back for too many days with extra weight, sluggishness, and bloat.
2. I'm having unbearable cravings for sweets for far too long after my carb nites are over.
With regard to #2, I've done one or two Sunday "back-loads" after my Sunday carb nites because I just couldn't resist the chocolate chip cookies I had left over—even though I tried to hide them way back in the recesses of my freezer.
I'm always more successful when I'm given a super-strict plan to follow. For a long time, I've taken pride in my willpower, and in being at my best when I'm faced with the task of keeping things strict. Give me a little bit of rope, though, and I'll falter. I've tried to fix this in several ways, but I've since learned to accept this personality trait as reality.
Not adhering to a set plan here and there during "real life" may be fine, but it's unacceptable when you're preparing for a contest. The carb nite menu for the first part of this contest prep process left too many things to chance for me, at least from a psychological perspective. I need something that says "Eat this much of this exact food," not something that gives me options and guidelines.
I've also been through this twice before, and I know that the easier you can make things for yourself when you're preparing for a contest, the better off you'll be. You'll go through a lot in this process—physically, mentally, and emotionally—and it doesn't make sense to fight unnecessary battles. I've learned to save my energy and my will for other challenges down the line. The result of all of this was that I decided to try a "clean" carb nite a couple of weeks ago to see whether it would work better for me—knowing that I still have time to readjust, if necessary.
My first question was whether or not it would be detrimental to my progress to cut my intake so soon. The "clean" carb nite I follow takes me down to approximately 150 grams of carbs, with a very low fat intake. To make sure I'm not impeding my progress, I'll need to make sure I get appropriate insulin spikes throughout the night, even with my reduced intake. Here's the plan: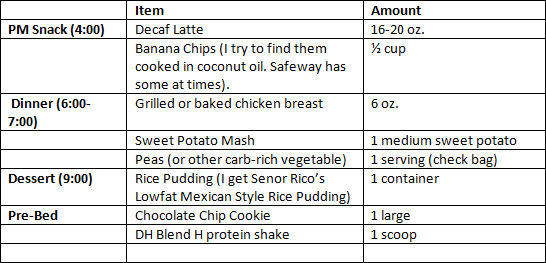 How'd this go? Much better, that's how.
At 4 PM, I went to Starbucks and bought myself a decaf latte. I brought a baggie of banana chips with me. I thought ahead and measured out the banana chips, which was a good idea because I probably would have eaten whatever I had with me. I wasn't tempted to get anything else at the pastry counter, though, and I kept myself busy with work.
I went home at 6 PM and made dinner. After a week of ultra-low carbs, even a simple meal of chicken, sweet potatoes, and peas tasted like heaven. I'm including a recipe for Sweet Potato Mash here. I love this one because it's both delicious and satisfying—and the whole thing left me really full for a long time after dinner.
I waited a couple of hours, then had my rice pudding. An hour after that, I had my pre-bed dessert. I felt as though I was going a bit over the edge by having a cookie here. I'm obsessed with chocolate chip cookies, and I really wanted it, but I wasn't hungry at all. I made myself eat it, however, then washed it down with a protein shake and went to bed.
It's strange that I ate about half as much food on this carb nite as I had in the past few, but still felt very full and satisfied. How on earth did I fit that much food into me before? I can't believe how many cookies I was putting away at one sitting. It's embarrassing.
The result?
I gained two pounds, as opposed to the 4-6 I'd been putting on. I had no bloat, and I looked and felt tight. Not as tight as on the morning of my carb nite, mind you, but let's just say I happily paraded around the gym in a sports bra rather than a tee shirt—which hasn't happened the morning after a carb nite in a long time.
I had a really strong workout—glutes, heavy core, and abs—and an HIIT session on the bike. I also had no carb cravings upon waking, or at any point during the day. I very easily transitioned back into a regular ultra-low carb day. Success.
I'm very cognizant of the fact that I'm cutting back pretty early in my plan, and I'm planning on watching myself closely to make sure I'm maintaining my size and keeping my muscles full and growing over the next few weeks. I want to lean out in my lower body, without getting too lean in my upper body.
It's a tough balance both mentally and physically, but the success of the past couple of weeks has made a huge difference to me emotionally—and that's a huge part of this. I like the more "hardcore" parts of competing—the dieting and training—as opposed to the small details, but it's time to start thinking about logistics: NPC registration, entry forms and fees, lining up a stylist for hair and makeup, and my suit. I have to focus on some of this stuff in the coming week.
Have a great week, everyone, and enjoy this recipe for Sweet Potato Mash:
Sweet Potato Mash
Ingredients:
1 medium sweet potato
1 tbsp coconut oil
½-1 tsp cinnamon
½-1 dropper liquid Stevia
Directions:
1. Preheat oven to 350°.
2. Poke holes in sweet potato with a fork, then bake for 45-60 minutes until mashable (soft and mushy).
3. Add coconut oil, cinnamon, and liquid Stevia to the sweet potato and mash together.