When one company becomes synonymous with a type of device—Polar is to heart rate monitors as Xerox is to, well, Xerox machines—it's rare to see a new twist on that device permeate that membrane of saturation. For years, we've been running to Polar for our heart rate monitors, but after trying out the Mio Alpha, we're thinking that's about to change rather quickly.
The Alpha is the most accurate strapless heart rate monitor we've ever seen. When compared with a Polar monitor that utilized a chest strap, heart rate readings were exactly the same. Instead of strapping up before you train—how many times have you left for the gym, then realized halfway there that you forgot to put on your chest strap?—then syncing the watch to the strap, all you have to do with the Alpha is put it on your wrist and press one button, and you're ready to roll.
In stark contrast to the more conventional Polar design, the Alpha's wrist strap is a very wearable stretch silicone band that won't get in your way, even during movements requiring significant wrist flexion. Also unlike a Polar unit, the gray/black Alpha one-piece looks nothing like your eighth grade Biology teacher's Casio digital. Instead, this stylish, understated model wouldn't look entirely out of place at a black tie event in South Beach. The sizing holes are spaced very closely together, ensuring an accurate fit, and a set of surprisingly durable end tongs secure snugly into the body of the band once you've found the proper tightness.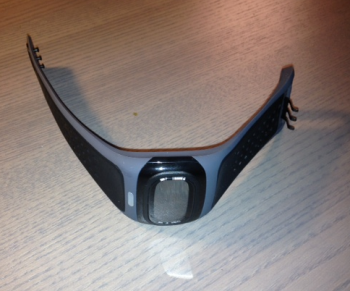 For basic use, simply hold down one easy-to-access button until the "find" indicator shows on the LED screen—which features a large, basic display that's clear in any light. The Alpha then detects your heart rate with sensors on the underside of the watch that gauge how much blood is running through your veins. Again, we wore a Polar chest strap unit simultaneously, and the readout was exactly the same. Even the drops and rises happened at the same time. Operating under the assumption that Polar monitors are the gold standard in terms of accuracy, the Alpha won't leave you at a disadvantage in this regard.
The company says the Alpha's battery life is between eight to ten hours, and after nearly a week of consistent use in the gym without charging, our review sample still shows a charge of more than 50 percent. The Alpha comes with a plastic dock charger that connects to the underside of the watch via a rather clever magnet design—and then to a computer with a USB cable.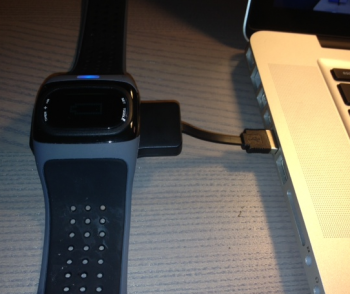 In terms of programmability features, the Alpha is less of a steady-state monitor and more of a weight training and HIIT-ready unit—which is perfect for our purposes. It doesn't give you splits or lap times—but if you're looking for products for long distance running, you're likely reading this review on the wrong website.
What the Alpha does do, and quite well, is allow you to program upper and lower heart rate zone limits, alerting you when you've reached either end. It also times your workouts and displays your average heart rate when you're finished.
Like Polar monitors, the Alpha occasionally loses an accurate reading, which can be disconcerting at first. We've used it to gauge rest periods on lifting days—using a baseline number as a "go again" point—and it can be a bit confusing to see the readout descending after a set of heavy squats. The Alpha quickly recalibrates on its own, however, and the lag time for accuracy is usually less than ten seconds or so—more than enough time to give an accurate reading well before it's time to prepare for your next set.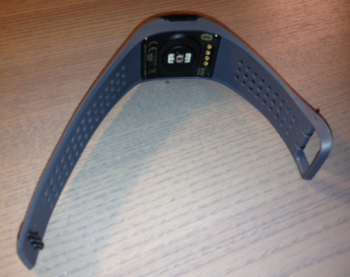 Unfortunately, the Bluetooth capabilities of the Alpha aren't compatible with BioForce HRV, but there are a host of other apps with which it can be used effectively. One word of caution if you're hoping to use your Alpha underwater, however: It's water-resistant, but the company recommends not using any buttons while it's submerged.
The Verdict: We're somewhat biased in favor of basic, "non-smart" products that don't do all the work for us, but for $199, the Mio Alpha does everything a heart rate monitor should. It's accurate, easy-to-read, won't obstruct whatever training you're doing, and best of all, there's only one part (the watch itself) you need to be concerned with. Go get one.
Mio Alpha: $199