By 2007, being big was just a fact of Seth Lirette's life. As a 6'5" offensive lineman at Jones County Junior College, the Waynesboro, MS native never bothered stepping on a scale. The numbers there didn't matter. The main priority was his level of play—and as a highly skilled technician and natural leader, the results were there, as evidenced by the attention he received from Division I programs. His actual weight had no bearing on the situation—until, that is, he saw a rather disturbing number on the scale before an all-star game following his sophomore year.
"It said 340," Lirette says. "I had always kind of internally rationalized that I needed to be big to play football, but 340 was obviously bigger than I ever needed to be."
A self-described "chunky kid" growing up, football was the center of Lirette's life until that moment—and for offensive linemen, the notion of dietary discretion typically never enters the equation. At his high school graduation, Lirette weighed in at a robust 275. "I was never extremely obese or anything," he says, "but when I was a kid, if it wasn't a chicken nugget, pizza, or a hamburger, I probably wasn't going to eat it."
Paradigm Shift
After not receiving any Division I scholarship offers, however, Lirette reconsidered his situation, both with his future plans and his health. Unwilling to hang onto a football career that apparently wasn't destined to happen, he gave up the sport—and decided to confront the gluttonous habits that tend to be de rigueur for offensive linemen.
"When I gave up football," he says, "I thought, well, if I'm going to be doing it this way, I have no excuses anymore, and it's time to drop some of this."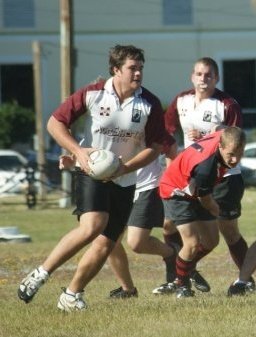 Armed with little more than motivation, and the sense that he needed to do something, Lirette's first move was to simply eat less and cut soda from his diet. He knew what he wanted to do, without knowing exactly how to do it. Still, the weight began coming off. After graduating from junior college, Lirette enrolled at Mississippi State—and by the time he'd finished his junior year, his weight had dropped to 280. Then, he says, he discovered rugby.
"That helped move things along a little bit," Lirette says. "With all the conditioning for rugby, I got down to about 270. That's still big for a rugby player, but it wasn't bad for someone who was going into it as blindly as I was."
Introducing: The Truth
During his second year of grad school, Lirette, still essentially improvising his own weight loss program, came across one of Kiefer's magazine articles. He says he "blew it off" at first, then read it a few months later after the concept of carb timing kept nagging at him. Kiefer's take on things inspired him to read both The Carb Nite Solution and Carb Back-Loading. "This was around April or May of last year," he says. "That's when I really started getting into the mindset you guys advocate for all this stuff."
Now 26 and living in Starkville, MS, Lirette is married and working as a statistical analyst for the University of Mississippi hospital system. There, he collaborates with researchers for geriatrics and cardiovascular research, nephrology, hematology, CT scans, and anything else the hospital's physicians need. "Pretty much anything a doctor has questions on that they need stats for," he says, "they come to my department with it."
It's a desk job where he's essentially confined to his office all day, but Lirette's developed ways to make CBL and CNS work, preparing his meals the night before, and eating them for lunch the next day. He'll generally eat his first meal of the day around 11 AM, followed by a snack later in the afternoon. At 5 PM, he'll train for 60-90 minutes in the gym, then come home and eat dinner.
"Honestly, I like to eat out," he says, "but whenever I do, I make sure I eat at places that serve quality food. Whenever we cook at home, we're always trying new recipes. My wife and I both love to cook, so what really attracted me to these programs was how you can definitely transform yourself without having to eat baked chicken for every meal."
Implementation
Lirette's been using either CNS or CBL ever since discovering the programs, but he won't mix and match, sticking to one for a few months before switching over to the other. "When I first did Carb Back-Loading," he says, "I was doing what Kiefer says happens and using it as an excuse to be a fat kid. That didn't work too well, but once I got it tuned, it started working. I'm not one of these people who tracks all my macros or anything like that, so this makes everything simple. I'll eat whatever I have in the freezer, honestly. It'll be some protein and some fat, but I make sure it's all high quality stuff."
When he's using The Carb Nite Solution as his primary plan, Lirette implements a unique method of scheduling his carb nites, coinciding them with social events like weddings and parties. "That part is pretty awesome, that I can just go and eat typical wedding food," he says. "My wife will be like, 'Look, you're embarrassing me going back and getting three pieces of wedding cake,' and I'm like, 'That's what I'm supposed to be doing!'"
Inspiration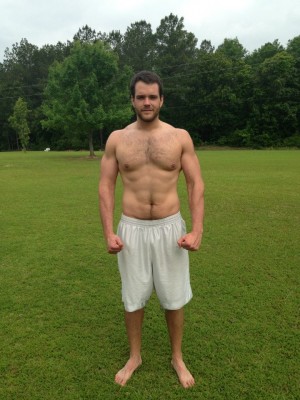 The best part about this transformation? The reactions from his friends and family when Lirette shows up looking leaner and more ripped than the last time they saw him. This is especially the case with friends he hasn't seen since his 340 pound junior college days. "Their jaws drop, they get this look on their faces, and they're like, 'Seth, man, you look great!' I try to be modest with it, but sometimes it's a little hard."
That degree of motivation aside, there's always the risk of regressing to the negative habits that necessitated changes in the first place. Lirette, however, doesn't believe he'll ever go back. "I seriously doubt it," he says. "I have a good support system around me, and I'm kind of a stubborn person, too. Whenever I kind of set my mind to stay on a course, I stick it out for a while. I don't see myself falling back into the fatness anytime soon."
The Great Debate
With training, things for Lirette get a bit muddled. As is common with most former college athletes, he's always been caught in a sort of limbo, somewhere between wanting to be really strong while simultaneously worrying about his aesthetics. The two aren't mutually exclusive, but in reevaluating what he wants out of his training, Lirette believes he's focused too much on still trying to train like a football player.
Now, as he's transitioning into the role of married adult male, the idea is to look better, and to "get better today than I was yesterday." To do this, he plans to focus less on powerlifting and more on how he looks. "Don't get me wrong, though," Lirette says. "If a training program doesn't have at least three of the big four lifts in it, I'm not going to give it a second look. I'm not trying to be a cover model or anything like that, but I do want to keep looking better."
Advice For His Formerly Fat Self
Lirette says the secret can be found in two steps: Making your first move, and then sticking to your plan. After deciding he no longer wanted to weigh 340 pounds, he endured several weeks of regression, bingeing on whatever came along and halting whatever progress he'd made. He addressed the problem, and solved it, by keeping his long-term goal in mind.
"My whole journey took six years," he says, "and it honestly would have been a lot quicker if I'd been more dedicated at the beginning. What I would tell anyone in the same situation is that if you tighten it up at the very beginning, it won't take you nearly that long. Just stay focused on the end. It's a marathon, not a sprint."