Be brutally honest with yourself right now. What do you really want to look like? How do you really want to be able to perform? Most guys these days, when asked, will tell you they want to look and perform like they fight in the UFC. They may or may not want to get elbowed or choked on a regular basis, but they sure as hell want to look like they can do this to you—and if they're serious, they're also training to build the athleticism that goes with it.
If you're unfamiliar with MMA's best athletes, take a look at champions like Georges St. Pierre, Benson Henderson, and Jon Jones—as well as high-level contenders like Phil Davis and Urijah Faber. They're strong, they're fast, they have endurance, they look great, and they can bash your face in very quickly without even breaking a sweat.
Joel Jamieson is, in all probability, the premier strength and conditioning coach in the MMA world. In Jamieson's MMA worldview, having a massive gas tank is right at the top of any fighter's must-have list when it comes to useful attributes. In the UFC, title fights consist of five five-minute rounds, and Jamieson's fighters—including UFC flyweight champion Demetrious "Mighty Mouse" Johnson and middleweight contender Tim Boetsch—are commonly regarded as two of the best conditioned athletes in the sport.
Expanding the Tank
Jamieson's training methodology centers around BioForce HRV, a product he's spent the past decade developing. BioForce HRV offers a simple way to monitor an athlete's training and recovery, allowing Jamieson to get the most out of every single session with his fighters. It does this by measuring heart rate variability—a reading that provides a literal snapshot of an athlete's body. From an HRV score, or set of scores, Jamieson can tell how well his athletes are recovering and how well they're adapting to their training sessions. Armed with this information, he can then fine tune their training programs on a completely individual basis.
"We've got a ton of professional athletes using this right now," Jamieson says. "I've gotten orders from teams in every major sport, including several NFL teams and major college programs, and several military special operations units use them as well. A lot of organizations are using it on a larger scale now."
BioForce HRV is a downloadable app that comes with a 160-page hardcover manual that explains both the product's use and the science behind it. A receiver plugs into your phone, taking readings directly from a heart rate monitor strap—which can be ordered either separately or as part of Jamieson's pro package.
Bringing Home the Belt
In September 2012, Johnson won via split decision over Joseph Benevidez to capture the UFC flyweight championship. Not surprisingly, given Jamieson's "gas tank" philosophy, Johnson swayed judges by dominating the fight's later rounds, maintaining a pace Benevidez had difficulty matching.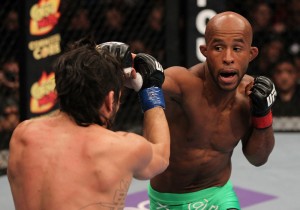 Johnson, considered the fastest—and perhaps most technically adept—fighter in the sport, uses his BioForce HRV for 2 ½ minutes every morning. The information gathered goes directly to Jamieson and trainer Matt Hume, who can then decide what level of training he needs on that particular day.
"At the beginning of a camp, we want to see a starting point," says Jamieson. "We need to see where he's at so we can monitor his progress, and his HRV score gives us a reliable and comparable idea of what kind of shape he's in."
When Johnson signs a contract to fight and starts a training camp, his HRV score typically falls in the low to mid-80 range. By fight time, Jamieson says, this score will easily be in the mid-90's. BioForce HRV allows Jamieson and Hume to know precisely what Johnson's state of readiness is at every point during his training. The road map to fight night is essentially laid out before he even throws his first punch or runs his first mile in camp.
"BioForce HRV is the best training tool I've ever used," says Johnson. "I give this system a lot of credit for the way I can keep my speed at the same pace for a five round fight."
Backing Off
Having daily readings also lets Jamieson know when it's time for Johnson to ratchet things down. When the fighter's HRV score drops into the 70's, he'll drop the intensity and volume of Johnson's training and move him into recovery mode. "This is a sign that he's not recovering from the training," says Jamieson. "It tells me he needs a little more of a rest, so we'll just adjust the rest periods and the load until he comes back up to where he needs to be."
This back-off period can entail altering training for a single day—doing light drilling or active recovery instead of a two-hour workout—or it can mean taking the day off altogether. Combined with Jamieson's and Hume's experience as his coaches—through trial-and-error, they've learned exactly what type of back-off work is effective for him—BioForce HRV gives Johnson precisely what he needs to improve every single day of his camp.
"After 20 years of working with athletes, Matt has a very good sense of where a guy is," Jamieson says. "He's trained fighters long enough to know when they're fatigued and when it's time to back off. His intuition is very good with that, and BioForce HRV does a great job of confirming what we see."
Fight Tested, Champion-Approved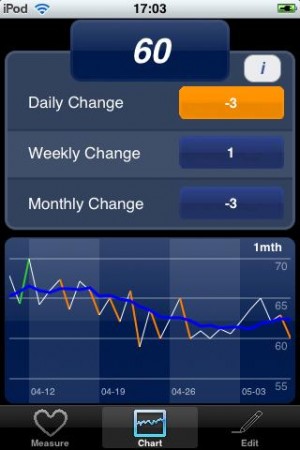 Johnson's last two fights—decision wins over Benavidez and John Dodson—demonstrate the efficacy of Jamieson's methods. In each fight, Johnson looked just as fresh and explosive in the fifth round as he did in the first. His opponents, meanwhile, visibly slowed down in both fights.
"The secret is that I didn't overtrain," Johnson says. "The way everything is monitored, I know I'm doing exactly what I need to be doing without having to worry about overtraining."
For MMA fighters—especially headliners like Johnson—fight weeks can be a bit dicey. External events can take a physical and psychological toll, and with so much at stake, these stresses must be accounted for somehow. "You have to understand the situation the week of a fight," Jamieson says. "He's most likely travelled across the country, he's under stress from being around the whole environment, he has interviews to do, and he has to cut weight. That level of stress is going to be reflected in his HRV score, but this also helps us manage it so he's back where he needs to be the night of a fight."
Hostile Takeover
Jamieson is about to release BioForce HRV 2.0, which takes the mobile app and ties it into the internet so athletes can monitor themselves online. 2.0 will make it possible to go online and track your weekly and monthly training, correlating your workouts and diet with your HRV scores and patterns.
This, Jamieson says, also opens the door for coaches who want to use his system with larger groups of athletes. 2.0 offers a dashboard that lets coaches use BioForce HRV with every athlete in a team setting, personalizing workouts with large groups. This provides an elegant solution to the primary problem common to every strength and conditioning program in the world.
"This gives them a way to monitor each individual athlete," Jamieson says, "so they can look for outliers who are susceptible to injury and need their training altered. They'll be able to do that on a large scale, quickly and easily, without having to spend a lot of time on it."
The Regular Guy
We know what you're thinking. This article seems like a sales pitch, right? Well, it is and it isn't. It is one, because the whole state-of-readiness philosophy is the foundation on which the Shockwave Protocol was designed. It isn't really a sales pitch, however, because Jamieson's system works—note Jim Laird's extensive mentioning of it here. If you're a regular gym rat who simply wants to get the most out of your training, the best way to do this is by individualizing your workouts.
BioForce HRV will push your body to the absolute limit of what it can adapt to, but no further. It won't allow you to pass into the overtraining zone. When you know precisely what you need every day, you won't overtrain, nor will you undertrain and leave anything on the table. Instead, you'll find the correct balance between training and recovery to get the best results possible in the shortest period of time.
And if you want to look like a fighter without getting punched in the face, it'll help you do that, too.