Everybody loves a good "hometown fat kid makes good" story. In this interview of Kiefer with Vincent Dizenzo on Just Big Radio, the guys discuss Carb Back-Loading, which Vincent himself has seen great success in using, and Kiefer reveals how he went from fat kid to physicist to sought-after nutritionist badass.
This amusing 40-minute interview can be downloaded in its full length here (32MB mp3).
Look for more Just Big podcasts here on Dangerously Hardcore in the very near future!
Topics Covered
Kiefer's Creation Story ("were you a fat kid?") – 00:45
How Kiefer got a Master's degree in Physics – 02:30


"I ended up with four classes of advanced physics with one-on-one teaching. And I just fell in love with it…" –Kiefer

What Vincent thinks of Carb Back-Loading – 05:15
How Kiefer came up with Carb Back-Loading – 06:00
The significance of using coconut oil as fuel in the morning – 08:00
How many hours to go before eating the first meal of the day – 10:00
What happens with hunger in the morning (and why skipping breakfast works) – 11:55
How "Skinny Vinny" stayed big … while readjusting his attitude toward carbs – 15:00
Why Kiefer wants most of all for people to learn about their own bodies – 16:15
How MUCH coconut oil should you use in the morning, and for what purposes? – 17:00
For CARB NITE (as well as the low-carb portions of Carb Back-Loading), learn why it's so important to use FAT (not protein!) as your primary source of calories – 19:50
What's wrong with the "eat 6 meals a day" approach? – 22:30
"The most important thing is the protein load for the day" – 24:00
Kiefer's Favorite Myth: doing cardio to burn fat. – 25:00
The "inner fat kid" recommends the junky carbs, but you can back-load with clean food too. – 25:30
Thoughts on getting body measurements (calipers, DEXA, etc) to measure progress – 27:45
Vincent gets instinctive. – 29:15


"I have a feeling if I'll be lighter the next day… I'm pretty in tune with this mess I've created." –Vincent

"These people that try to give you the exact same diet plan for every day… it just doesn't make any sense! Your body is not the same machine every day… Unless you start to understand your body, you're never going to have it easy." –Kiefer

Do you get more in tune with your body using Carb Back-Loading? – 31:15
A listener asks "what to eat on non-training days and type of carbs after training" – 33:15
LOLdeadlines – 34:30
---
About Carb Back-Loading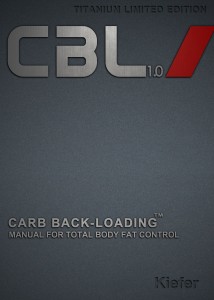 Carb Back-Loading, a diet protocol developed by Kiefer from years turning scientific research into contest-winning reality for the world's top powerlifters and figure competitors, stands as "the Holy Grail" of nutrition programs: a system for building lean mass while cutting fat.
With Carb Back-Loading, you can become as lean as you want to be — whether you're getting slim and toned for a bikini or ripped, huge, and strong like the author himself. Why sacrifice aesthetics for performance when you don't have to?
Attention: From NOW until December 26th, 2011, the Carb Back-Loading book is available in a limited Titanium Edition at a special temporarily lowered price.
Find out more about Carb Back-Loading and what it can do for your body transformation goals — as well as the special perqs of getting in early with the Titanium Edition.