Ian Albert, CSCS, is the manager of EVF Performance, a popular CrossFit gym on the Upper East Side of Manhattan in New York City. We're featuring this interview with Ian for a few reasons. First, he's experimented extensively with Carb Back-Loading and is a huge fan of the system. Next, we wanted to talk about how he's integrated CBL into his CrossFit-style training. Finally, from a business perspective, working with his unique clientele—the UES is one of the wealthiest areas in the world—has given Ian, a University of Michigan graduate, an interesting perspective on the future of the fitness industry.
DH: Introduce yourself to our readers and give us a little sense of your background and what you do.
Ian Albert: I'm a trainer, and the manager of EVF Performance in New York City. I also run the strength program at the gym, as well. I started off at New York Sports Club, and was knocking around at the chain gyms for a while until I met Eric Von Frolich (EVF's owner) at Velocity Sports Performance, which is where I took all of my private clients. Our first conversation was actually about how much I hated CrossFit, similar to a lot of the things Kiefer has said.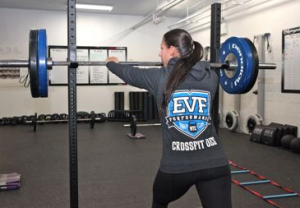 We eventually started training together, and that's when my mind started to change about a lot of the CrossFit stuff. We talked about my career before becoming a trainer—I was in retail management—and about management possibilities for the gym he was opening.
DH: What was the deal with not liking CrossFit back then?
Ian Albert: When I started training with Eric and another friend of ours who's also opening up a CrossFit gym, it just started to open up my mind a little bit. Eric and Jay were 20 years older than me, they're in ridiculous shape, and they're both incredibly strong and pretty much good at everything. I trained with them, but I still never really went full-on CrossFit. I wanted to compete in powerlifting, so I stuck with that and trained in a typical powerlifting style, but at the end of my workouts, I started throwing in some metcons.
DH: How did you do that, and what did it do for you?
Ian Albert: It's not like I'm doing these drawn-out 30-40 minute metcons, but we started doing our own thing—creating some kind of strongman medley with stones and farmers carries, things like that. It's not exactly CrossFit stuff, but it's in that same vein, using metcons that will help my main lifts. It's not like I'll do a thousand burpees or a thousand wall balls. 
 It got me in shape. I wasn't getting winded walking up the stairs. With just doing the regular, basic strength training, I wasn't feeling athletic anymore.
DH: How did you come across Kiefer's material?
Ian Albert: I don't remember how I first found EliteFTS, but that's how I found Kiefer. I may have looked at Jason Pegg or Brian Carroll's logs, but I saw how those guys were training and eating, and how they were getting leaner. I think the first few articles I came across were the original CBL one and the Logic Does Not Apply series. It went against everything all the magazines said to do. That intrigued me, and I wanted to try it.
DH: What were you doing before that? Were you a Paleo guy?
Ian Albert: No, I was never a Paleo guy. Before CBL, I was just kind of lost. I was doing whatever Muscle & Fitness told me to do, so I was eating every three hours. My typical breakfast was eggs and oatmeal, and I felt tired the entire day. Eating every three hours, my life revolved around when I was going to get food in, to the point where I would stress out if I wasn't eating exactly every three hours, or I wasn't getting my protein fix.
 I just wasn't getting anywhere. I wasn't getting any bigger or stronger, and I wasn't getting leaner. I wasn't fat, but I wasn't making progress in any aspect. What bothered me more was that I was always tired. I was always told that if you have oatmeal in the morning, it would give you energy—and that breakfast was the most important meal of the day. I'd eat what I thought was a healthy breakfast, and I'd feel like shit for the whole day.
DH: So how did the transition to CBL go?
Ian Albert: I had more energy, I didn't have to stress about meals, I could go nuts at night, and I could have coffee with heavy cream. That was fun. The thought of occasionally eating shit at night and getting stronger and leaner from a tub of Ben and Jerry's was awesome. It went really well once I got a better idea of what I was doing. This was about two years ago, so the book wasn't out yet. Once the book came out, I just followed everything he wrote in there, and it worked.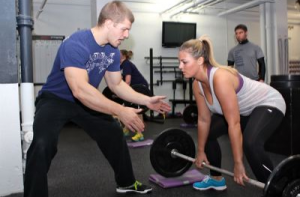 I had to train in the morning, because with my private client schedule, that was where I could fit it in. So I was having a ton of coffee for breakfast, a ton of protein and fat for the rest of the day, and then at night, especially if I was training the next morning, I would kind of go nuts.
DH: People usually think trainers don't understand the demands of "regular working people," but in reality, you have the same concerns with figuring how and when to eat with a busy schedule and no real kitchen at work. How'd you manage?
Ian Albert: I would cook all my food the night before. I would just cook everything, put it in glass containers, and store it in the refrigerator. I would stir fry everything, just because that was the quickest way to do it. It would be a ton of fibrous carbs and either chicken, steak, turkey, or roast beef—some type of meat, with a lot of vegetables and a lot of fat. I wouldn't have any usable carbs until after I trained. If I was training in the morning, the only carbs I had would be the ripe banana, and then at night. 
DH: How did that make you feel?
Ian Albert: I was amazed at how much energy I had in the morning off of no food. I was training completely fasted at 10 AM, and some of the best workouts I've had were off zero food and just coffee. Everything just got better. I got a lot stronger, put on a lot of mass, and I got up to around 240 pounds with a body fat percentage of about 10-12 percent. I just got a lot stronger, in way better shape, and I started feeling athletic again.
DH: Let's switch gears a little bit. You're in a pretty interesting position, given the area where you work. Would you say CrossFit and that type of hardcore training have a place in an area like New York City?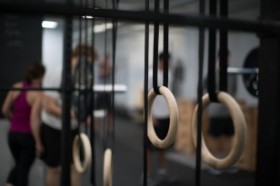 Ian Albert: Yeah, I think it's gonna blow wide open. Just from all the chatter I'm hearing about all these people who want to open gyms, it seems like everyone's buying new spaces. I think Hell's Kitchen has one new location, if not two, and CrossFit NYC has two or three locations and they're looking to add more. We're opening up two more, as well—in Brooklyn and Columbus Circle. It seems like there's another one opening every month in the city, and membership doesn't seem to be a problem at all.
We've been open since July, we have 128 monthly unlimited members, and that doesn't include all the class packs that have been sold. In New York, I think it's only going to get bigger.
DH: When members sign up, do they stick around?
Ian Albert: I would say the majority are year commitments. The people who are new to lifting, who at first were month-to-month, all switched to a year. They're all going at it full force, getting into training, buying all the gear, all the clothes, all the shoes. I think the community aspect helps with that, in addition to the training.
 Honestly, I can only see it getting bigger. A lot bigger. I think it's poised to explode in New York, which could be a good thing or a bad thing. I think one of the bad things about the industry these days is how easy it is to open up your own gym. All that means is that there are a lot of bad trainers out there.
DH: How do you know when you're in a bad gym?
Ian Albert: You have to kind of figure that out for yourself. The way to find a good gym is more of a word of mouth thing. Again, it's really easy to open up your own gym, and at some chains, nine out of ten trainers are terrible. They have their CSCS, their kettlebell certification, their powerlifting certification, and twenty other certs, but they have no idea what they're doing. It works the same way with CrossFit.